Safety is a key value in the company culture of Riddleberger Brothers, Inc. Our philosophy is to create an accident-free environment through leadership, communication, and motivation. This commitment begins at the top and continues throughout the organization.
"For me, safety is important because we work for a company where it does matter—where we have a voice and the right to say something. I want every person in this company to go back to their family and friends the same way they came to work. So, safety matters not just one day, but every day and if we look out for one another, we can make sure this happens." – Jason Wilder, Plumbing Field Superintendent
"As Sheet Metal Operations Manager, safety matters not only for myself but also every employee so that we all go home the same way we arrived each day. I appreciate the safety culture that has been developed at RBI and know that it starts at the top and involves everyone." – David Patterson, Sheet Metal Operations Manager
TRAINING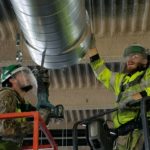 Riddleberger Brothers employees are empowered with the right and responsibility to stop work for safety. We also apply a "Team Safety" approach in which everyone is responsible for their individual safety as well as the safety of everyone around them. In addition, we were the first mechanical contractor in Virginia to attain SHARP (Safety and Health Achievement Recognition Program) certification. Riddleberger Brothers, Inc. has implemented several safety programs, including:
Compliance with OSHA and VOSH standards
Substance Abuse Policy
Written Hazard Communication Program
Confined Space Entry Program
Lockout/Tagout Program
Equipment Training and Licensing
Riddleberger Brothers, Inc. provides OSHA 10 training to all field and shop employees. In addition, employees are trained on a variety of topics which include:
Fall Protection
Confined Space
Electrical Safety
Lockout/Tagout
Hazard Communication
Personal Protective Equipment
Riddleberger Brothers employees share why safety matters to them.
Click to See Why
Riddleberger Brothers has an exceptional technique, Think 5 x 5, taught to all employees to ensure that they think and work safely. Our Think 5 x 5 safety initiative increases employee awareness and enhances the company culture to "Take 5 seconds and 5 steps back" to think about their surroundings and work area to make sure it is a safe work environment.