Apprentice Spotlight – Adam Hill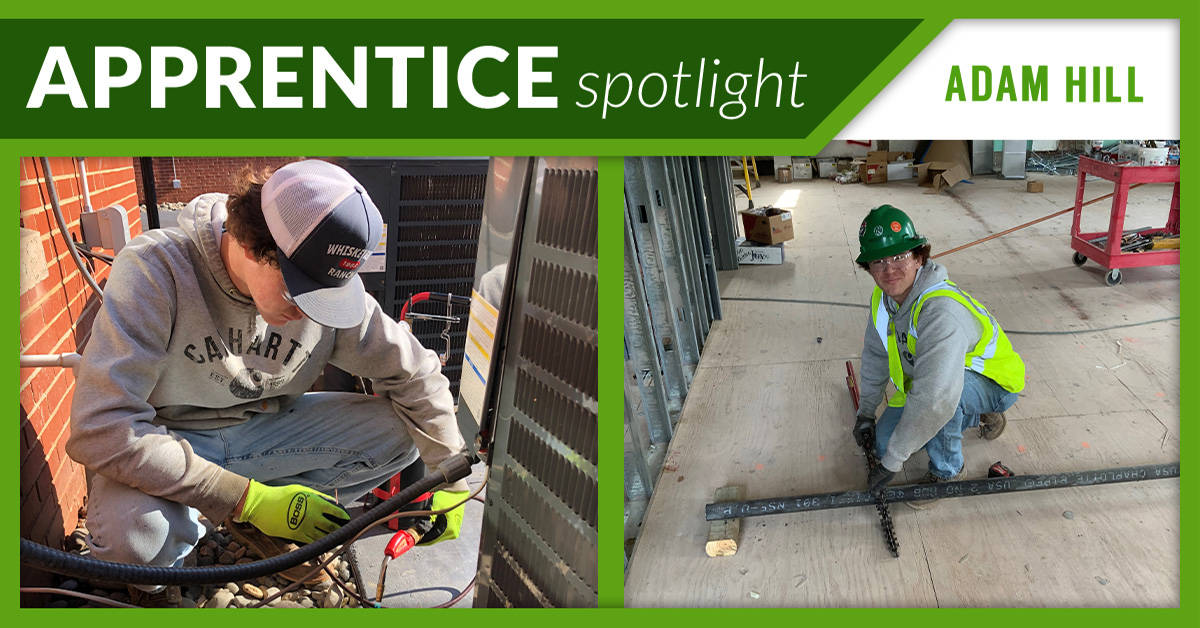 Happy National Apprenticeship Week! We're proud to partner with local institutions to offer internships and trade apprenticeships to students to help further their careers. This year, we sat down with one of our apprentices, Adam Hill, to hear more about his experience working at RBI.
Adam worked full-time in construction over the summer and is currently working part-time for us while in his senior year of high school at William Monroe. He's also in his second year of the HVAC program at Greene County Technical Education Center.
How did you get interested in working in the trades?
I have always liked working with my hands and being active. Being in a trade allows you to make a solid living while doing what you enjoy. I also like being able to provide a service for others.
With so many employers actively hiring, what made you apply for a job with RBI?
When looking for a job, I talked to several people and they all said that RBI was a good place to work. I also toured the facility for a field trip and liked what they offered.
With youth apprentices, there are additional safety protocols and limitations regarding the work you are allowed to perform. Did you feel like your safety was a priority on the jobsites you worked on?
I always felt that my safety was a priority. There was a list also given to me from the Department of Labor stating tools and equipment that I could not use.
What advice would you give to another high school student who is considering an apprenticeship in the skilled trades?
Go for a company that truly cares about their employees and provides an atmosphere that encourages growth.
What do you hope your career will look like 5 years from now?
I would love to continue my journey at RBI. Through hard work, I would like to move up in the company.
Do you think the training you are getting at RBI will help you toward your 5-year goal? How so?
Yes, my showing I am a team player and through hard work. My training to directly impact my goal to continue perfecting my trade.
Do you have any feedback for the managers and co-workers you have had while at RBI?
Everyone there has been very helpful and accepting of me. No one has treated me differently based on my age. I enjoy working with all of my co-workers.
Thank you for the kind words, Adam! We are proud to have you as part of our team.