Riddleberger Brothers Participates in Worlds of Work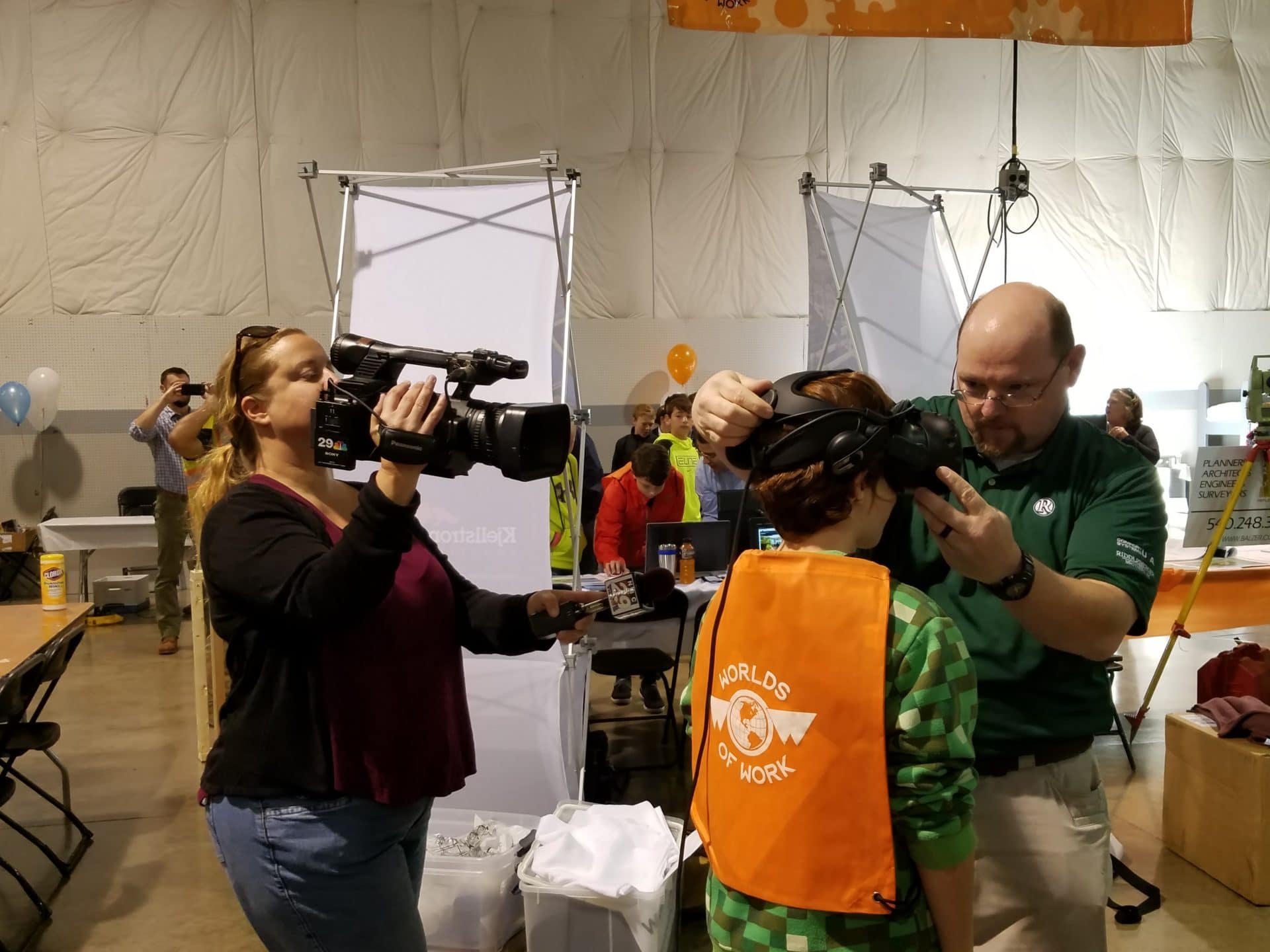 Riddleberger Brothers is committed to our community and helping to lessen the skills gap in the construction trades. Our team enjoyed participating in the Worlds of Work program by introducing 2500 7th grade students to the many exciting things we do to provide comfort to the buildings and facilities we work on and in.
This article original appeared in the October 18th Daily News Record by Vic Bradshaw.
HARRISONBURG — Jeremiah Shaffer Jr. had a pretty good idea that he wanted to be a welder when he walked onto the Rockingham County Fairgrounds on Tuesday afternoon.
By the time he left, that thought was welded to his mind even tighter.
"It's really interesting," the 12-year-old Elkton Middle School seventh-grader said as he prepared to leave the Worlds of Work event. "They let you use some of their stuff. They'll let you get in it. They'll teach you different stuff. They'll teach you what it is. They'll teach you how to do it.
"But it's not like you get a diploma for it."
Krystal and J.D. Shaffer's son didn't walk away from Worlds of Work with any sort of degree. But after being exposed to 16 different career pathways, he seemed more set on welding as his future career.
That's a goal of Worlds of Work, a program by the Blue Ridge Career Pathways Consortium that exposes all seventh-grade students in Rockingham and Augusta counties and the cities of Harrisonburg, Staunton and Waynesboro to the types of jobs they could land without leaving their hometown.
An array of local employers set up stations in and outside the fairgrounds' Exhibit Hall to introduce the children to different occupations and explain the qualifications required to work in each field.
Eric Fitzgerald, director of career and technical education for Rockingham County Public Schools, said the local program was built off a model used by Frederick County Public Schools.
The Virginia Department of Education mandates that students choose a career path to pursue by the end of seventh grade, he said. Worlds of Work provides them a hands-on opportunity to learn about various careers.
"Seventh-graders, it's typically hard to get them engaged," he said as students bounced from station to station, checking out different options. "These kids are engaged. It's interesting to watch them."
Virtual Vision
Riddleberger Brothers had perhaps the most popular booth at the event, allowing students to use virtual reality or augmented reality to see a facet of what the Mount Crawford company does.
Steve Clutter, the mechanical contractor's building information modeling manager, showed students how Riddleberger uses the technology to find potential system-design problems before work even begins.
While most Riddleberger employees build or install heating, ventilation and air conditioning systems, plumbing, boilers or electrical systems, Clutter leads a team that troubleshoots building designs. On one large structure they identified 4,000 issues that they resolved or sent back to architects for changes.
"There's a huge neat factor because AR and VR are kind of buzz phrases in their culture now," Clutter said of the attention the Riddleberger exhibit drew.
Brinley Jetton, the 13-year-old daughter of Colleen and Daron Jetton, found Riddleberger's virtual reality exhibit to have that "wow" factor.
"I loved the virtual reality," the Elkton Middle student said. "That was sooo cool."
It wasn't cool enough to sway her from her goal to be a physical trainer for horses, but she said agriculture exhibits provided some helpful hints related to the occupation.
'Like Real Life'
Worlds of Work, which brings seventh-graders from the five school systems to the event in morning and afternoon shifts over two days, is in its second year. The inaugural event was held at Augusta Expo in Fishersville last year.
Velma Bryant, director of enrollment services for Blue Ridge Community College and the consortium's chairwoman, said by showing students jobs available locally, they can have "a more informed conversation back in school with teachers and counselors" when choosing a career path.
Some employers that participated in 2016, she said, created interactive activities or displays this year to spark more interest. The Virginia Department of Transportation sent 38 people and had stations inside and heavy equipment outside to support everything from business administration jobs to construction and road maintenance.
Students, Elkton Middle counselor Courtney Horne said, might "have ideas of maybe something they want to do from TV or something that their parents already do, but a lot of them don't know about the local opportunities that are available … for them."
Massanutten Technical Center masonry instructor Dave Suba had bricks and mortar on hand and allowed students to build a short wall. The interest in the activity, he said, exceeded his expectations.
Elkton Middle pre-algebra teacher Kristi German said Worlds of Work did more than spark interest last year. It helped children understand the types of classes they need to take to pursue a certain field.
"I think they got to see what they were interested in so they could know in high school, 'I'm going to need to take more math so I can do this kind of job,'" she said, "or just what they need to do for future planning from what they saw there."
For Jeremiah, Worlds of Work provided an opportunity to try his hand at his chosen profession. Shickel Corp., the Bridgewater custom metal fabricator, had a welding simulator for students to try.
"It was like real life," he said. "I thought it was pretty cool."