Intern Spotlight: Austin Harper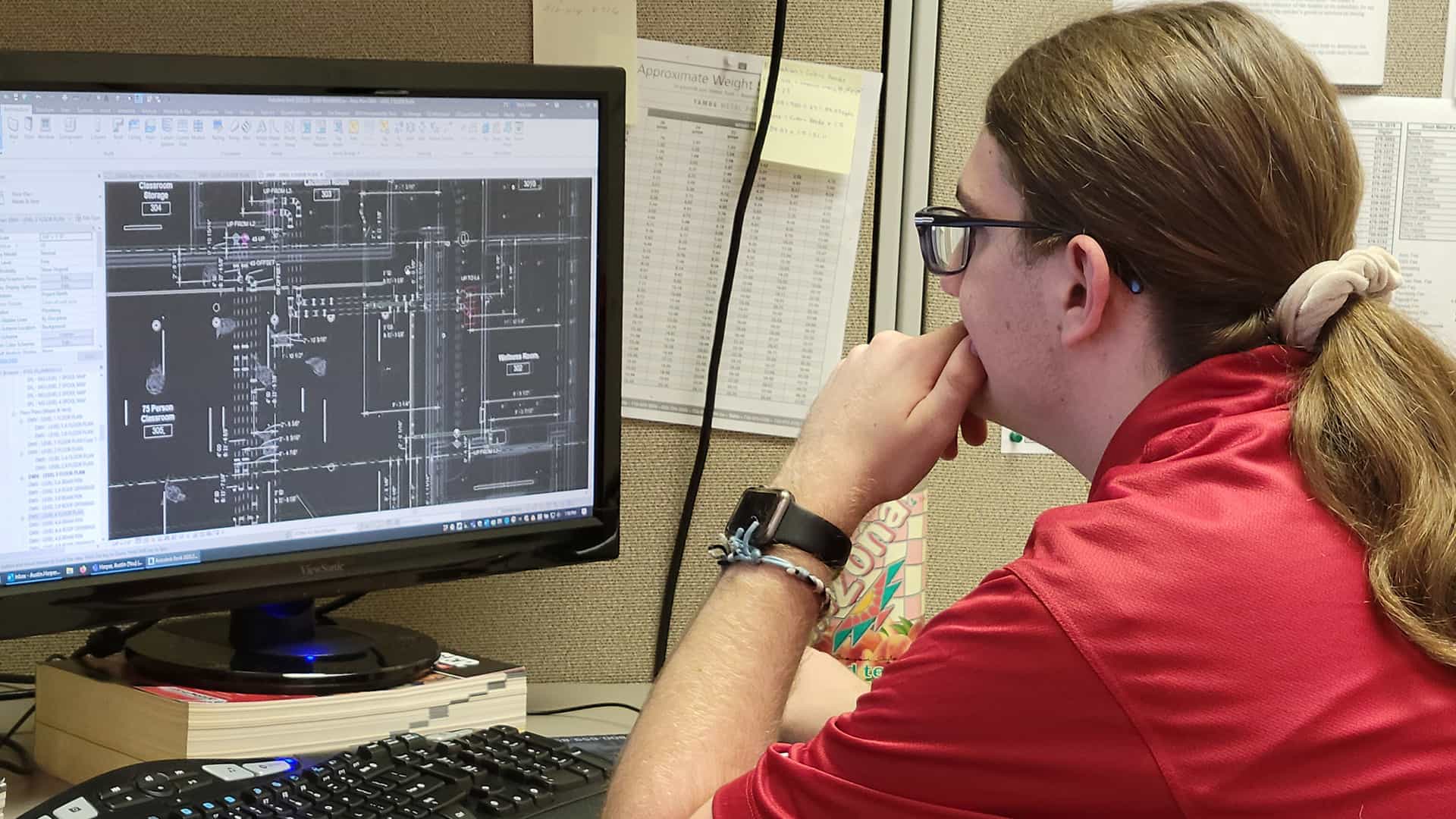 We recently sat down with one of our summer interns, Austin Harper, to talk about his experience working with our BIM department. Austin will be a freshman this year at Blue Ridge Community College and has been working on projects for UVA and the new Rocktown High School in Harrisonburg.
How did you hear about Riddleberger Brothers and our job opportunities?
I have family who have previously and currently work for RBI, and my instructor at Massanutten Technical Center reached out to me to offer me this internship.
What school/program are you attending this fall?
This fall I am starting as a freshman at Blue Ridge Community College, getting a 2-year degree, and transferring (hopefully) to JMU's Architecture program.
What are you hoping to gain from this intern experience?
I'm hoping to gain experience working on actual projects for actual customers and to gain experience working within the drafting/architectural field.
What types of projects have you been working on so far?
So far I have been working on projects for places like UVA and HHS 2 helping make installation plans and creating and sending PDFs of ducts to the shop for fabrication.
What is your work schedule and who are you reporting to at RBI?
I have been working two 10s a week, usually Tuesdays and Thursdays. I report to Jesse Lawrence.
What have you learned so far?
I have learned so much about what goes on inside the company and how much it takes to create a plan for HVAC and plumbing for a building. I've also learned a great deal of AutoDesk applications. Coming from only knowing AutoCAD, I have learned about Revit, Navisworks, and Fabrication CADmep. I have also learned various other programs that aid in the construction and fabrication process.
What advice would you give to someone else considering an internship opportunity?
Work hard and be the best you can be. This is your experience and what you make of this is determined by the amount of effort you want to put forward.
Is there anything else you would like to share about yourself, your goals, or your experience working at RBI?
I feel that personally I've really grown as a person and took a big step into the fabled "real world" that everyone tells you about in high school. But by choosing an internship in a field that I am so familiar with, I feel like the natural stress that comes with becoming an adult hasn't really affected me as much as it has my peers who are also moving on to life past high school.