As you participate in spring cleaning activities around your building, it's important to make sure that your building's HVAC system isn't getting overlooked. Spring brings a new season of warm weather, meaning your HVAC will soon be putting in work to cool down your space. Along with seasonal upkeep, routine preventative maintenance is essential to keeping a commercial HVAC system running smoothly with minimal cost. This is true for commercial systems that heat and cool buildings of all sizes in order to improve indoor air quality and energy efficiency.
The components of an HVAC system that need regular maintenance may vary based on if the system is indoors or outdoors. Below, we've included the items you'll want to check no matter where your HVAC system is located. Many items on our checklist will be important to include in your routine maintenance year-round.
Preventative HVAC maintenance is performed as a routine checkup, usually at certain times of the year, such as spring and fall, to ensure everything is running properly and adjusted for potential season changes. Maintaining various components of your commercial HVAC system will ensure that your building's air conditioning and heating needs are met year-round.
Since working on certain parts of HVAC systems require expertise, you'll want to leave most of your routine maintenance to the professionals. But, there are a few areas of your system you can maintain on your own and should do so more frequently than seasonal checks.
Clean your condenser coils: Thoroughly rinse the coils with high-pressure water to remove any debris and buildup.
Replace air filters: This should be done once a month. Ensure the system's power is off, then remove the old filter and replace it with a new filter of the same size, noting the date you change it.
Remove debris from around the system: Regularly check that there is nothing blocking your system and that there is ample room around it.
Inspect and clean air ducts: Wash vent covers, loosen dust with a brush, and vacuum it up.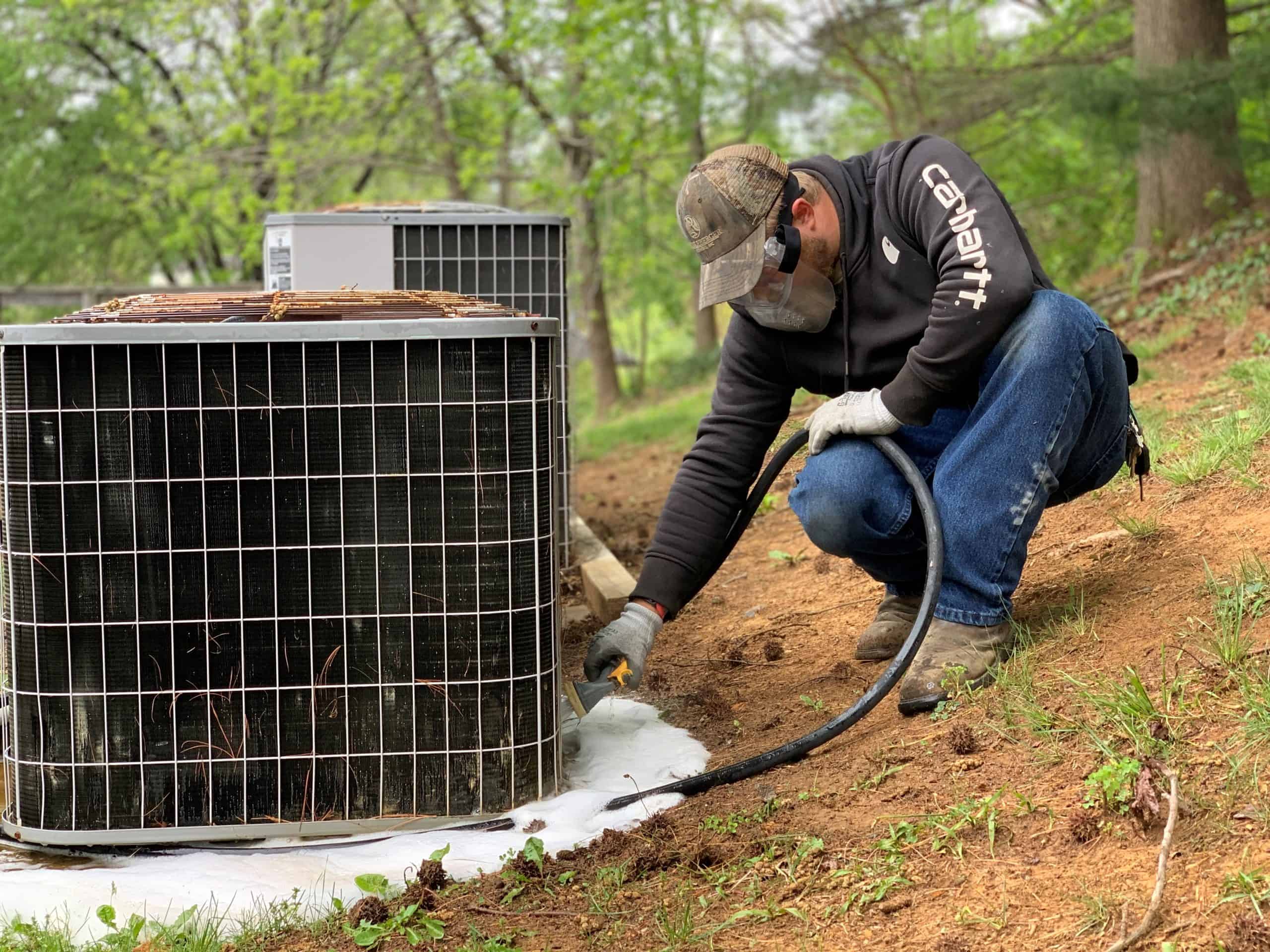 When You Should Call an HVAC Technician
The following maintenance items should only be handled by an HVAC technician to prevent injury and/or potential damage to your system. If you have any questions about what duties you should perform yourself or what should only be handled by professionals, let us know!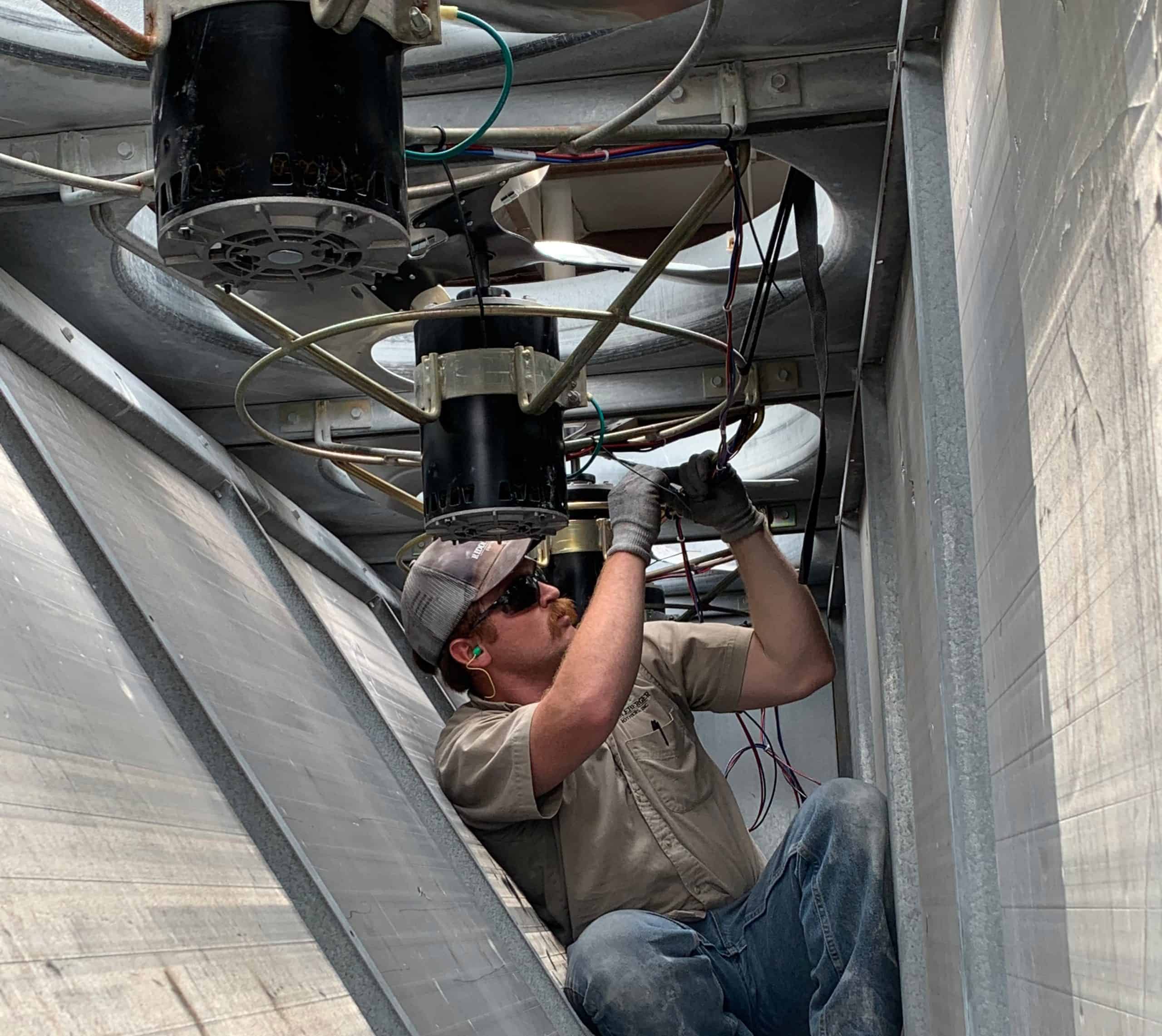 HVAC technicians are qualified to work on various components and can give you recommendations on maintaining your system
Only HVAC technicians should:
Check airflow, fan, and blower motors
Inspect drain lines and pans
Check the refrigerant charge
Inspect electrical connections
Other Maintenance Options
You can also improve your HVAC systems by installing a new smart thermostat and/or investing in a new HVAC system altogether. Smart thermostats allow you to control your system from anywhere, helping you save energy when you're on the go. If you find that your system is needing constant service and that preventative maintenance isn't enough, it might be time to invest in a brand-new HVAC system.
Ensuring Regular HVAC Maintenance
It's important to find a regular maintenance plan that works for your HVAC system. Regular, preventative maintenance will help extend the life of your system, improve air quality, and lead to fewer emergency repairs. Along with preventative maintenance, RBI offers a variety of HVAC maintenance services, including:
24/7/365 Emergency Service
System Diagnostics & Troubleshooting
Chiller Service
Cooling Tower Repair
Rooftop, Packaged, Split Systems & VRF Service
Geothermal & Water-Source Heat Pumps
Compressor Rebuilds or Remanufactured
Motor Repair & Rewind
Pump Repair
Variable Frequency Drives (VFD)
Fan Balancing
Air & Water Balancing
Get the Free Checklist
Download our full Spring HVAC Maintenance Checklist to keep track of your HVAC cleaning this spring!
RBI is a premier full-service plumbing, mechanical, service, controls, and design-build company. With over 80 years of experience, we know how to get the tough jobs done. If you're looking for a trusted HVAC technician, get in touch with us today!